Dile a Teresa que baje al parque
Clara Moreno Cela

[Scroll down for English]

16 - 21 Noviembre, 2021
Performance 21 Noviembre
El trabajo de Clara Moreno Cela (1993, Madrid) es una constante conversación entre el dibujo, la poesía, la ilustración y la performance.
"Dile a Teresa que baje al parque" es una exposición que no podría ser en otro momento, y que se asoma al cuerpo desde dentro, lo saluda con cuentos y juegos de proporciones en una mezcla trash de literatura castiza.


La componen una serie de dibujos de tamaño bebé incipiente, dispositivos blandos que aspiran a narrar un cuento con imágenes hechas de tul. Hay un carrito de la compra que se empuja -que no se arrastra- al que se asoman los niños y las viejas por la calle para ver y saludar a un bebé que resulta ser un puerro, una bolsa de ganchitos, una barra de pan. Y el domingo os esperamos para un cierre vermut performativo de celebración.


Clara Moreno Cela (Chamberí, 1993) es artista, cantante e hija de librera. Cuando le va bien en una cosa, cambia de nombre y empieza un proyecto nuevo. Quiere quedar con Teresa pero no sabe si acabará bajando. Clara la espera en el parque y mientras tanto no para de dibujar Clara pinta, dibuja, canta, baila y hace cómics. Lee mucho, todo el rato. Y lo cuenta y lo canta.

Tú creaste al bebé hortaliza, ahora apechuga. Pechuga y hortalizas.

Todos los dibujos están hechos con rotuladores de colores. Menos los dibujos sincolorear que están hechos con calibrados.Clara nos ha dicho que "calibrados" es la forma profesional de llamar a los rotuladores Pilot.

En esta exposición quizá sea importante saber que Clara va a ser adre. ¿Cómo? Siasí, sin m. "Lo de adre es aposta, ahora se dice mucho para omitir p o m (mola!)"

Estos dibujos podrían ilustrar cuentos clásicos, pero no. Porque ilustran cuentos que aun no podemos leer. Los que va a publicar Clara con Niños gratis.

Los ingredientes para un caldito bien se merecen un dibujo.

Volviendo de la compra una niña le pregunta a Clara si puede ver al bebé, señalando el carro. Lo siento, solo hay puerros.

Dibujos extraños e infantiles. Porque lo infantil no extraño no es infantil.Escalas alteradas para conciencias alteradas.

La bolsa del corte inglés es casa, es clase.Qué cosa más rara son les infantes. Las infantas ni te cuento.Lo infantil no tiene por qué ser cursi, o al menos no tan cursi.Un poquito menos de control y un poquito más de intuición.

Un carrete viejo de fotos. Jaime coge en brazos a Clara. Parece que se le escurre,pero ese no fue el día que se le cayó. Los dibujos sin colorear son algo más sosos, pero nos gustan mucho. Están muy bien dibujados, cosa fina. Otro estilo. Agarrarse a la vida como a un peluche sucio.

Fantasía día a día. Fiesta de cumple. Fiesta de otoño. Mölkky, luces, globos a medio hinchar.

Yo no te regaño si tú no me regañas.Eso que te hace hacer no es savoir-faire, es intuición.

El robot blandito fue el prota de una ópera rock. Era puerta de discoteca, pero seliberó. Jorge Núñez de la Visitación Alien le daba movimiento, con la cabeza dentro de una bolsa de tela plateada, parecía que se iba a ahogar. Condones de raso, la bolsa del pan.

Condones de raso, la basura del papel pa' reciclar.



Jaime González Cela y Manuela Pedrón Nicolau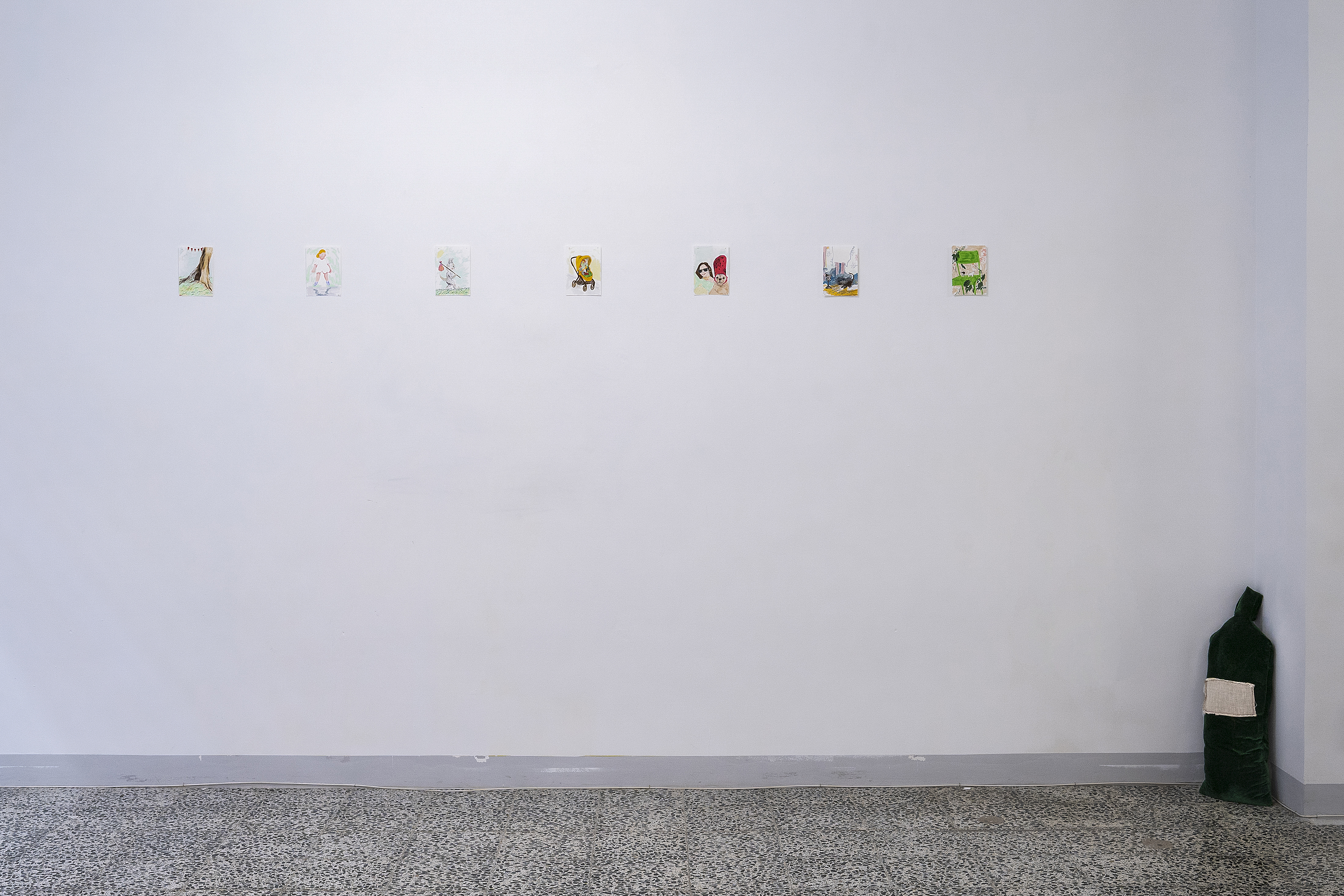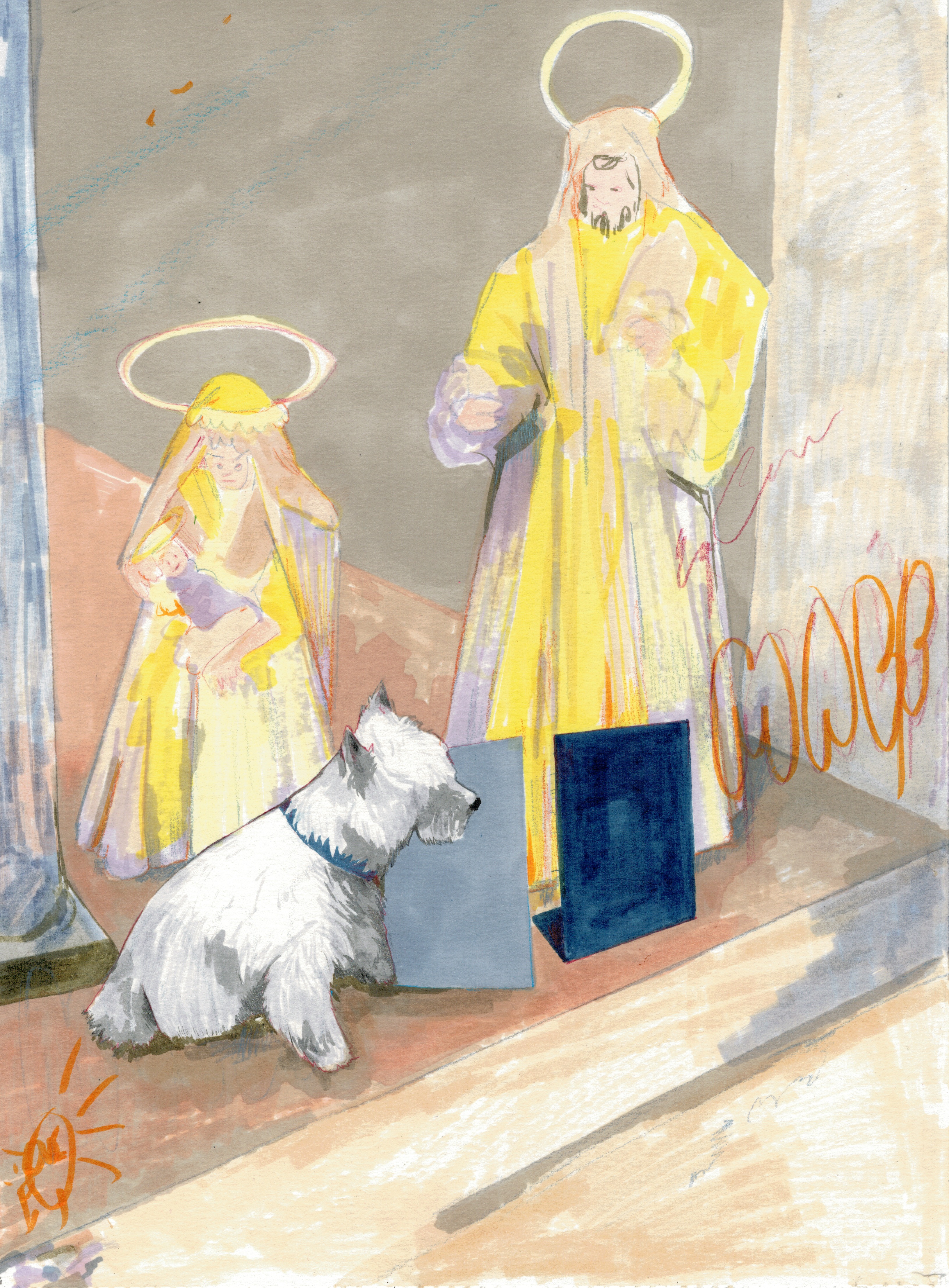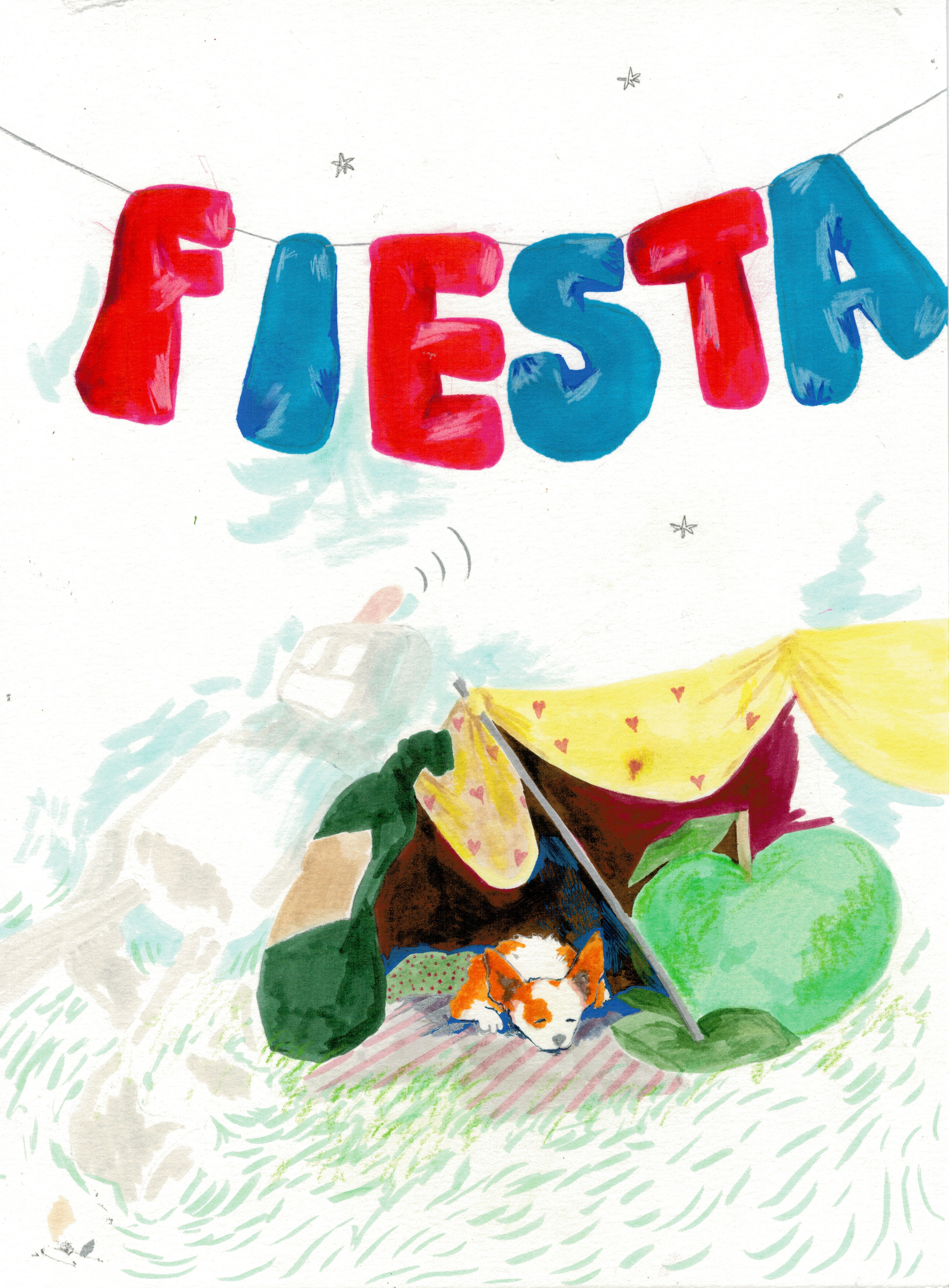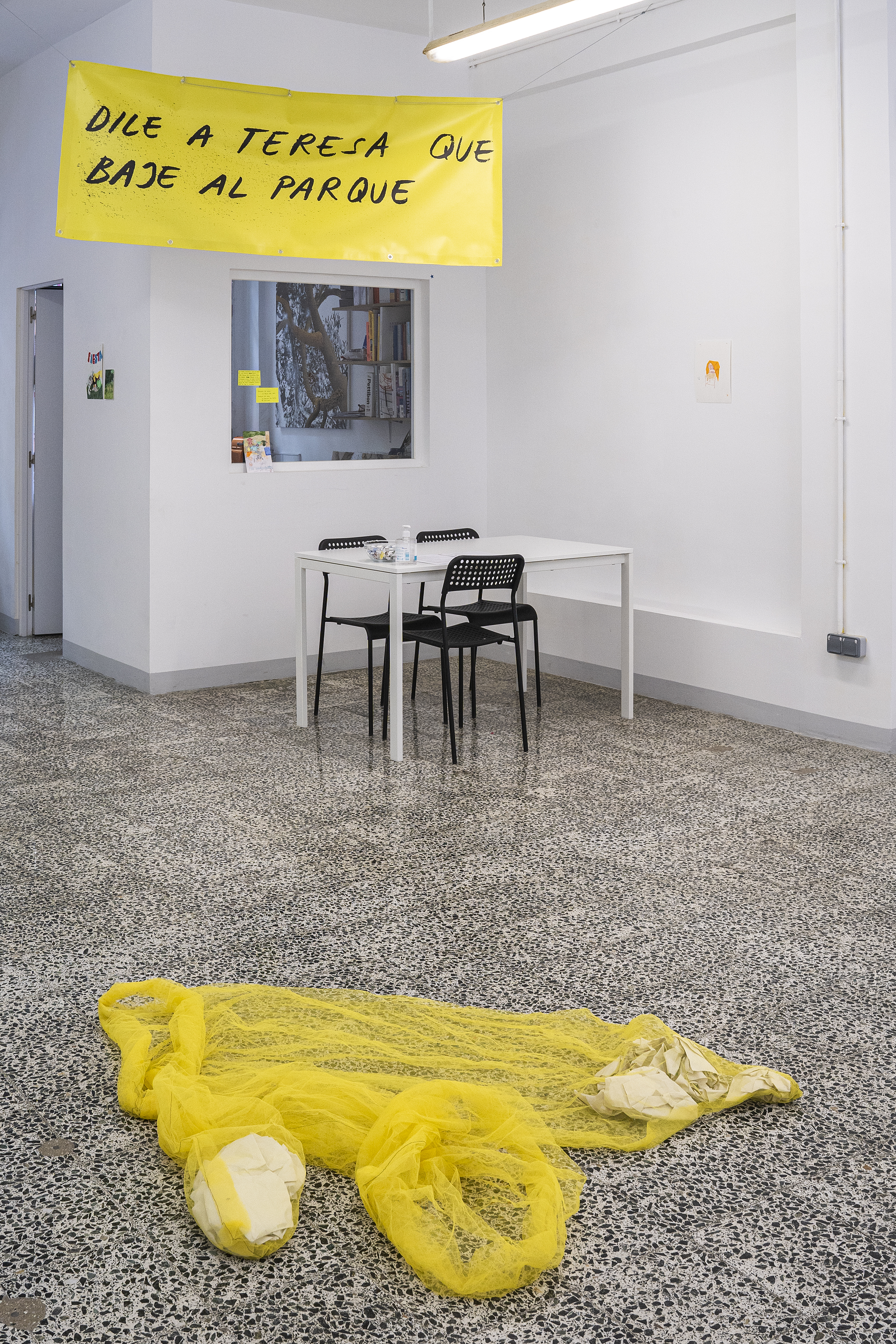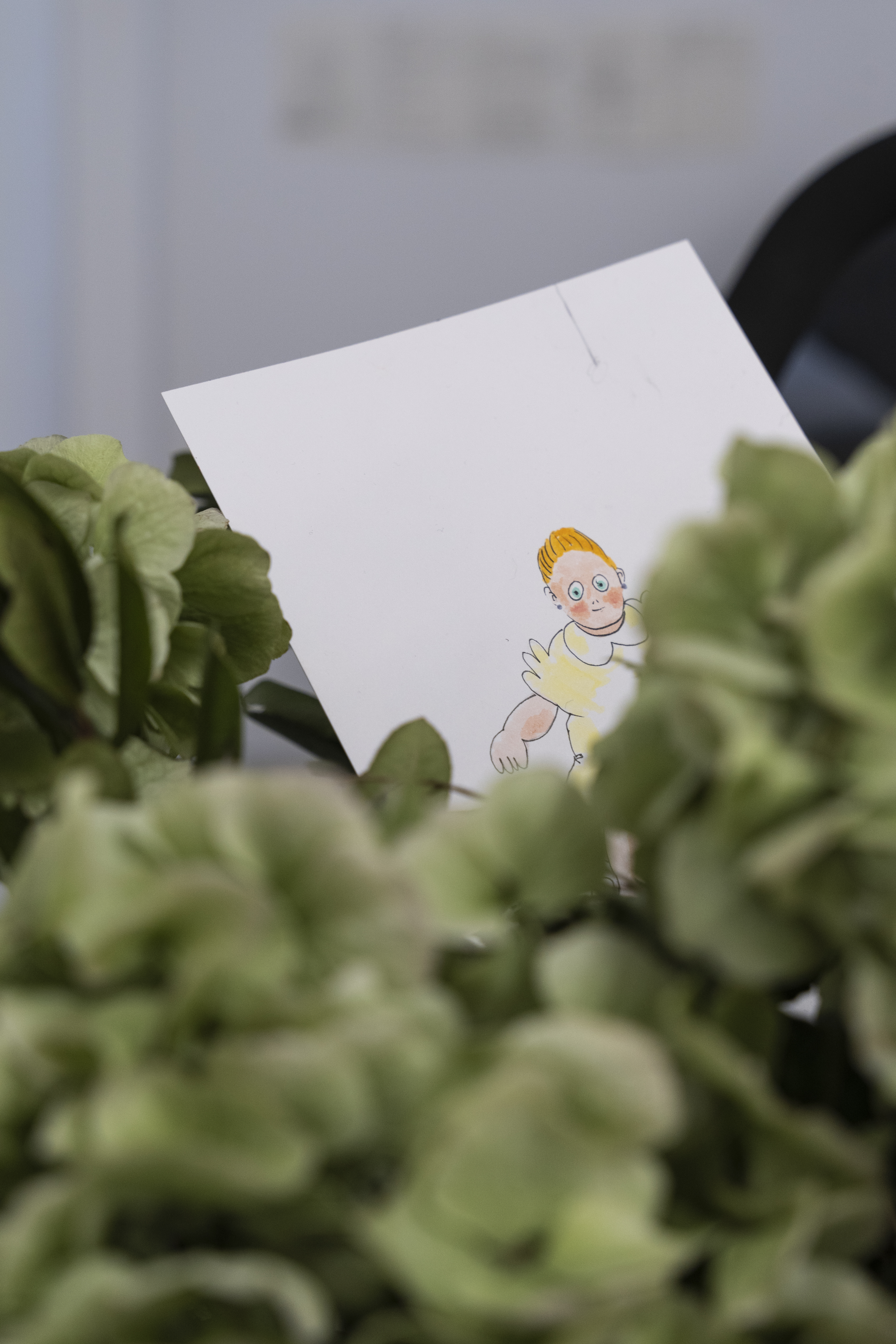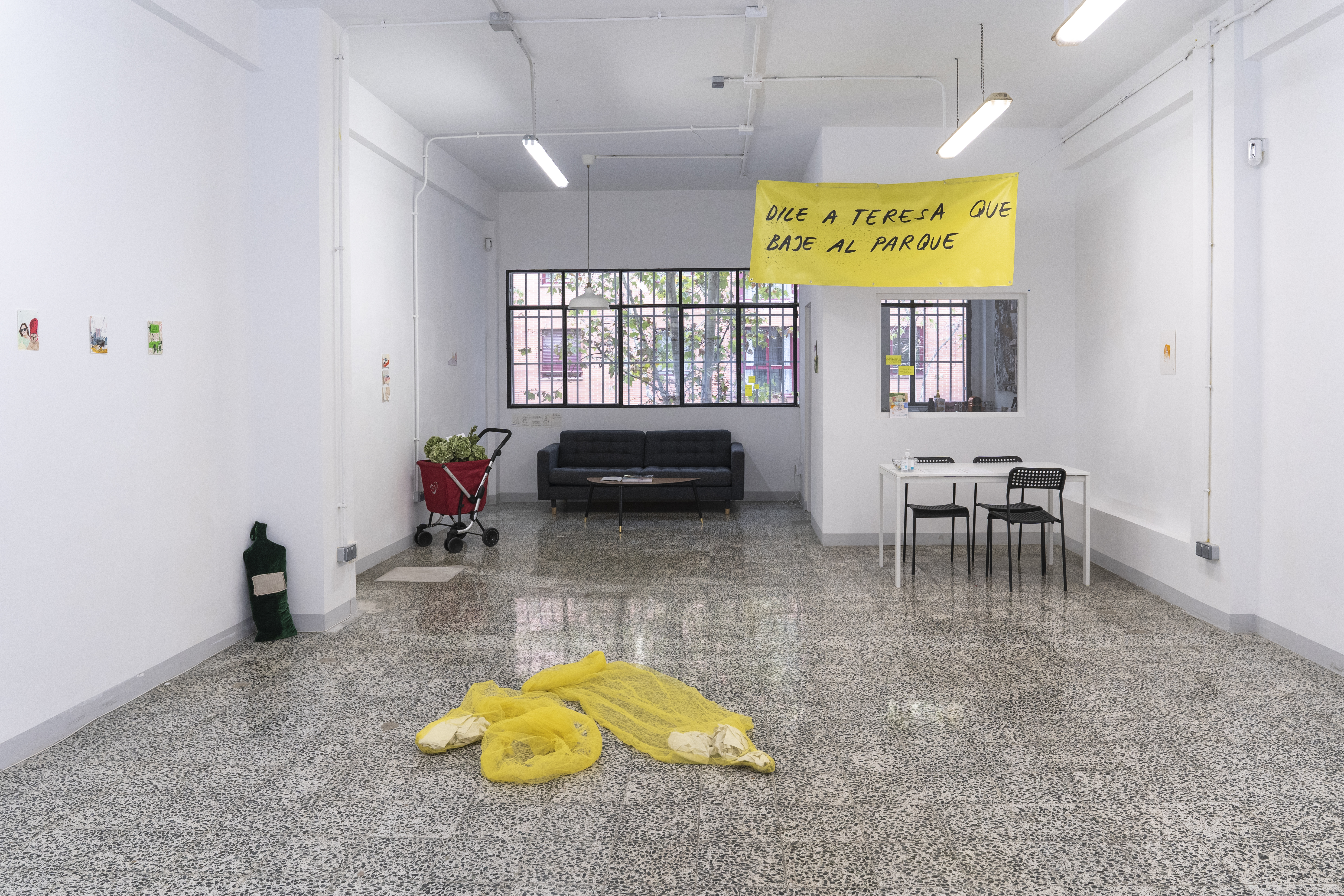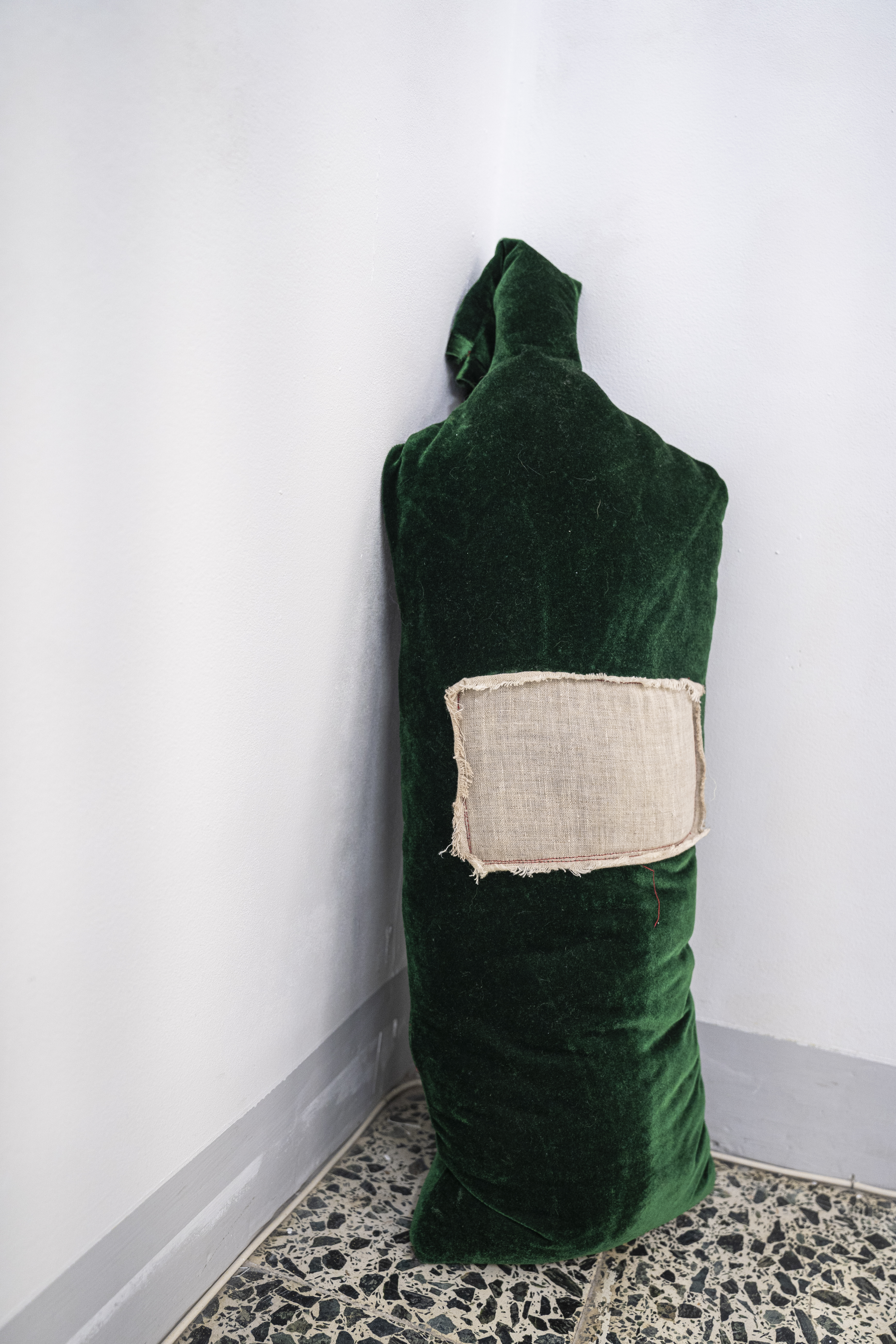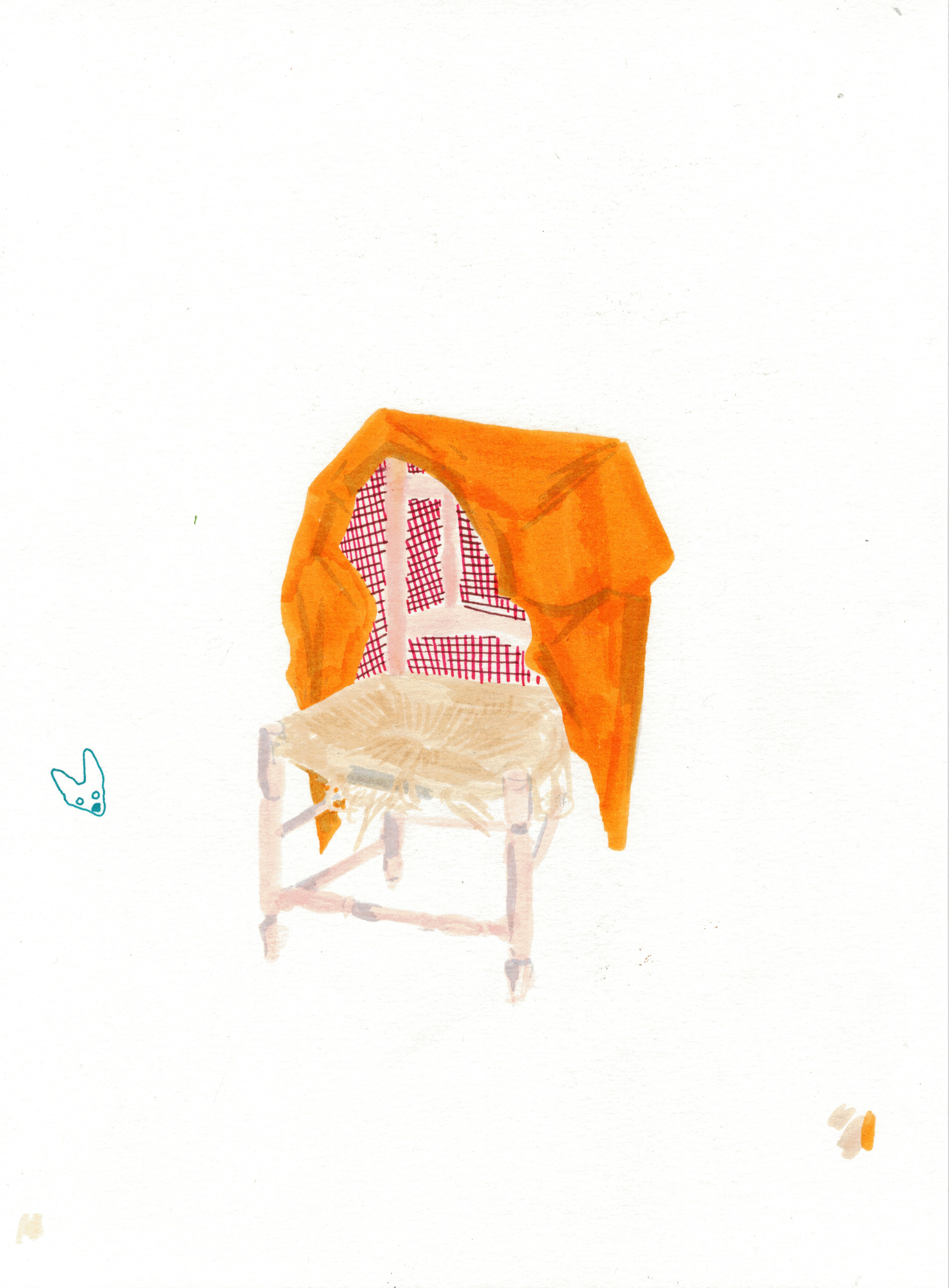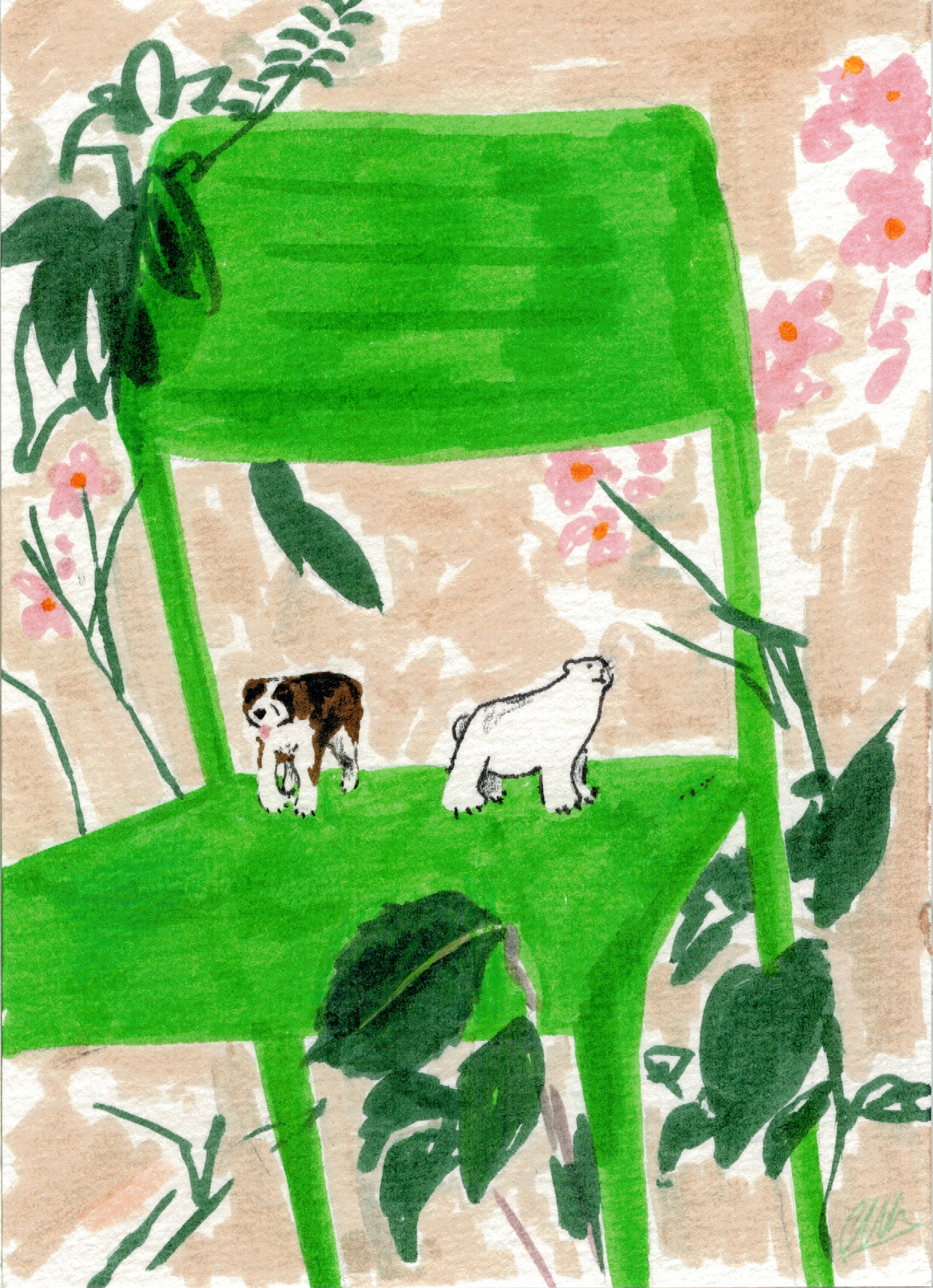 16 - 21 November, 2021
Performance 21 November


The work of Clara Moreno Cela (1993, Madrid) is a constant conversation between drawing, poetry, illustration and performance.
"Tell Teresa to go down to the park" is an exhibition that couldn't be at any other time, and that looks at the body from the inside, greets it with stories and games of proportions in a trashy mixture of traditional literature.


It is made up of a series of incipient baby-sized drawings, soft devices that aspire to narrate a story with images made of tulle. There is a shopping trolley that is pushed - not dragged - which children and old ladies lean out of on the street to see and greet a baby that turns out to be a leek, a bag of crochets, a loaf of bread. And on Sunday we are waiting for you for a performative vermouth closing celebration.

Clara Moreno Cela (Chamberí, 1993) is an artist, singer, and the daughter of a librarian. When one thing is going well, she changes name and begins a new project. She wants to stay with Teresa but she doesn't know if she will go down. Clara waits for her in the park and she cannot stop drawing. Clara paints, draws, and makes comics. She reads a lot, all the while. And she narrates it and she sings.

You created the vegetable baby, now it withstands. Breast and vegetables.

All of the drawings are made with colored markers. Fewer of the uncolored drawings are made with calibrations. Clara has told us that "calibrated" is the professional way to call the Pilot colored markers.

In this exposition it is perhaps important to know that Clara is going to be other. How? Yes, like that, without m. "The other is on purpose, now a lot is said to omit p o m (mola!)"

These drawings could illustrate classic stories, but no. Because they illustrate stories that we cannot yet read. Those that Clara is going to publish with free Children.

The ingredients for a broth well deserve a drawing.

Returning to the purchase a young girl asks Clara if she can see the baby, pointing to the cart. Sorry, there are only leeks.

Strange and childish drawings. Because that which is childish and not strange is not childish. Altered scales for altered consciousness.

The Corte Inglés bag is home, it is class. What a rare thing children are. Children I can't even tell you. Childishness does not need to be cheesy, or at least not as cheesy. A little less control and a little more intuition.

An old photo reel. Jaime takes Clara in his arms. It seems to be slipping away, but that was not the day that he fell. The colorless drawings are something duller, but we like them a lot. They are very well drawn, a fine thing. Another style. Holding on to life like a dirty toy.

Day by day fantasy. Birthday. Fall festival. Mölkky, lights, half-inflated balloons.

I do not scold you if you do not scold me. What makes you do is not savoir-faire, it is intuition.

The soft robot was the hero of the rock opera. It was the door of the discotheque, but it was released. Jorge Núñez of the Alien Visitation gave movement, with his head inside a silver cloth bag, it appears as if he is drowning. Silk condoms, the bag of bread.

Silk condoms, paper trash to recycle.


Jaime González Cela y Manuela Pedrón Nicolau