[Scroll down for English text]
13 enero - 18 febrero, 2022

"En los vastos matorrales de nuestro sueño invocamos a todas las cosas que nadan o se arrastran o vuelan, a las más sutiles e imperceptibles agitaciones, a todo lo oído a medias, a todos los susurros articulados a medias. ¡A todo lo que es frondoso y lejano! Invocamos a los cascos del sueño a través de esa inmensidad baldía y solitaria de la noche: ¡Volved! Y ellos vuelven: los caballos del Sueño galopan, galopan sobre la tierra."

Thomas Wolfe

El sentido del asombro en la pintura de Abel García

Cuenta la bióloga marina Rachel Carson, en su exquisito y necesario libro El sentido del asombro, cómo siendo todavía casi un bebé llevó de noche a su sobrino Roger envuelto en una manta a ver una tormenta cerca del mar. Juntos, sintieron la emoción y la "aceptación de la naturaleza, sin tener miedo ni de la canción del viento ni de la oscuridad ni de las olas rugientes". La infancia es el terreno donde plantar la semilla del asombro. Una vez que han surgido las emociones, estas siempre tendrán un significado duradero. Y de estas emociones primarias surge la trascendental expresión del lugar del mito. Este precede a la expresión que se le da, es la unicidad del lugar. El lugar mítico no es el singular, sino su nombre universal. Así, un campo, un monte o un camino se convierten en el campo, el monte y el camino. Y en estas promesas, está el lugar.

Y salimos a caminar, pues caminar es ser. Es buscar ese lugar. Abel lo sabe muy bien, y en su pintura nos ha devuelto la capacidad de asombro. Ese sentido que teníamos abotargado y cegado por los reflectores de la supuesta modernidad, esa que no nos deja ver las luciérnagas.

Como un Whitman o un Wolfe, Abel ha dejado atrás el hogar y ha compuesto su Sinfonía del Nuevo Mundo. Se ha lanzado, como los colonos en sus carromatos, por los senderos tortuosos de la aventura, del huir hacia el bosque, de encontrar esa tierra prometida donde los pinos son hombres que te saludan con el viento, donde hay que construirse el refugio con las propias manos. Y nos convertimos en leñadores, en vaqueros, en labradores. Pero sin olvidar la porcelana, las jaulas delicadas y las sillas de metal que la madre loca y maravillosa no quiso dejar en el Este y pintó de azul. Y vemos pasar ingenierías rojas sobre nuestro tren de juguete. Escalera roja para llegar a las ramas más altas de los abetos. Roja la flor sola que creció en nuestra nueva vereda. El leñador es parte del bosque y no sabemos realmente quien corta y quien es cortado. Y el agua, agua azul celeste por todas partes. Agua que moja nuestros cansados ojos y nos devuelve toda la increíble gama de colores que Abel ha encontrado en estos cuadros. ¡Qué magia delicada y potente nos ofrece! Pura pintura salida del musgo, de la hierba, de las flores, del cielo. Pura poesía, puro asombro. La infantil pulsación del sentir mágico de la vida.

Sí, Abel ha encontrado el lugar del mito. El lugar universal del camino, del monte, del hombre-árbol. Nos ha devuelto las luciérnagas. Al ver su pintura me siento como ese niño Roger asombrado por primera vez ante la tormenta en el mar. Abel nos agita el corazón al fin y emocionados, vemos, vemos todo como si fuera por primera vez.


Guillermo Martín Bermejo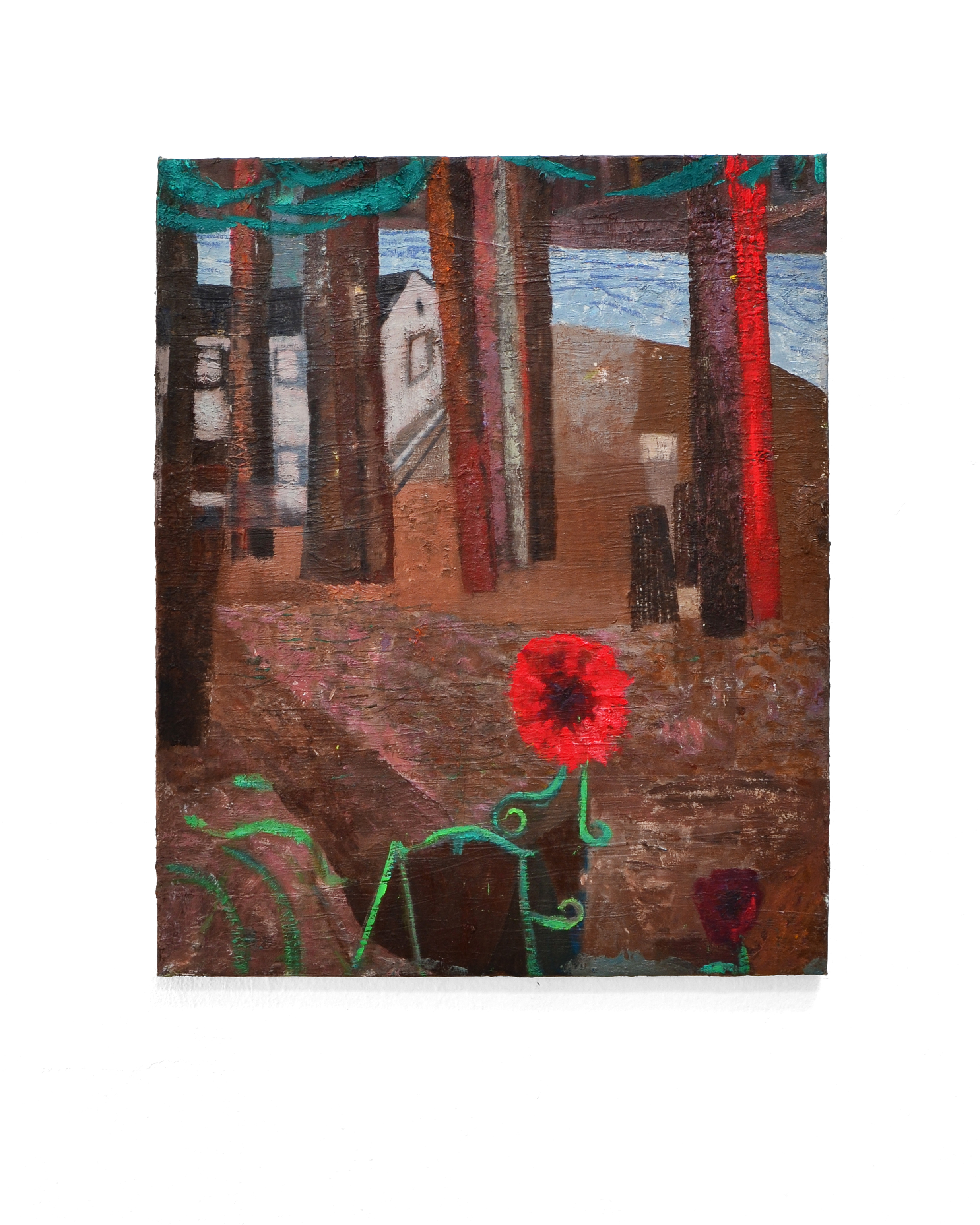 January 13 - February 18, 2022

"In the vast thickets of our dreams we invoke all things that swim or crawl or fly, the most subtle and imperceptible agitations, all that is half heard, all half-articulated whispers. To all that is leafy and distant! We invoke the hooves of sleep through that barren and lonely immensity of the night: Come back! And they return: the Dream horses gallop, gallop on the earth. "

Thomas Wolfe


The sense of wonder in Abel García's painting

Marine biologist Rachel Carson tells, in her exquisite and necessary book The Sense of Wonder, how while still almost a baby she took her nephew Roger wrapped in a blanket at night to see a storm near the sea. Together, they felt the excitement and "acceptance of nature, without being afraid of the song of the wind or the darkness or the roaring waves." Childhood is the ground where to plant the seed of wonder. Once emotions have arisen, they will always have lasting meaning. And from these primary emotions arises the transcendental expression of the place of myth. This precedes the expression that is given, it is the uniqueness of the place. The mythical place is not the singular, but its universal name. Thus, a field, a mountain or a road become The Field, The Mountain and The Road. And in these promises, the place is.

And we went for a walk, because to walk is to be. It is to look for that place. Abel knows this very well, and in his painting, he has given us back the capacity for astonishment. That sense that we had numbed and blinded by the reflectors of the so-called modernity, the one that doesn't let us see the fireflies.

Like a Whitman or a Wolfe, Abel Garcia (Seville, 1996) has left home behind and composed his New World Symphony. Like the settlers in their wagons, they have launched themselves down the winding paths of adventure, fleeing into the forest, finding that promised land where the pines are men who greet you with the wind, where you have to build your refuge with the own hands. And we become lumberjacks, cowboys, farmers. But without forgetting the porcelain, the delicate cages and the metal chairs that the crazy and wonderful mother did not want to leave in the East and she painted in blue. And we see red engineerings passing over our toy train. Red ladder to reach the highest branches of the fir trees. Red the single flower that grew on our new path. The woodcutter is part of the forest and we don't really know who cuts and who is cut. And the water, azure blue water everywhere. Water that wets our tired eyes and gives us back all the incredible range of colours that Abel has found in these paintings. What delicate and powerful magic it offers us! Pure painting from the moss, the grass, the flowers, the sky. Pure poetry, pure wonder. The childlike pulsation of the magical feeling of life.

Yes, Abel has found the place of the myth. The universal place of the road, of the mountain, of the man-tree. He has returned the fireflies to us. Seeing his painting I feel like that boy Roger amazed for the first time during a storm at the sea. Abel finally shakes our hearts and excited we see; we see everything as if it were for the first time.


Guillermo Martín Bermejo