[Scroll down for English]
Córdoba, 1997
Vive y trabaja en Córdoba

︎ @ireneanguita_c


A lo largo de estos dos años –desde su inclusión en nuestra primera edición de Adentro/Afuera y su posterior primera exposición individual en 2021– hemos seguido de cerca la evolución del trabajo de Irene, de su práctica pictórica y de los temas que giran alrededor de la obra. Enfrentarnos a su pintura nos sigue suscitando incógnitas y misterio, pero con una intensidad mayor, que proviene de una práctica más madura. Para los que conozcan en profundidad su obra esta evolución será más evidente, para los que se encuentren con ella por primera vez, entenderán que la obra viene de un proceso que se asoma largo. Irene tiene un ritmo incansable de trabajo, sin embargo, no todo lo producido es válido, y este es otro síntoma de la evolución de una práctica. Lo que antes le interesaba lo sigue haciendo ahora, pero entonces, ¿cómo empujar su propia práctica hacia lugares desconocidos? El lenguaje de la artista se compone tanto de factores conceptuales –metafísicos incluso– como de elementos tangibles, lo que hace a la técnica y que la une a la materia; nos atrevemos a decir que en lo matérico es donde ha encontrado el terreno fértil para seguir enfrentándose a su obra desde el lugar más honesto posible.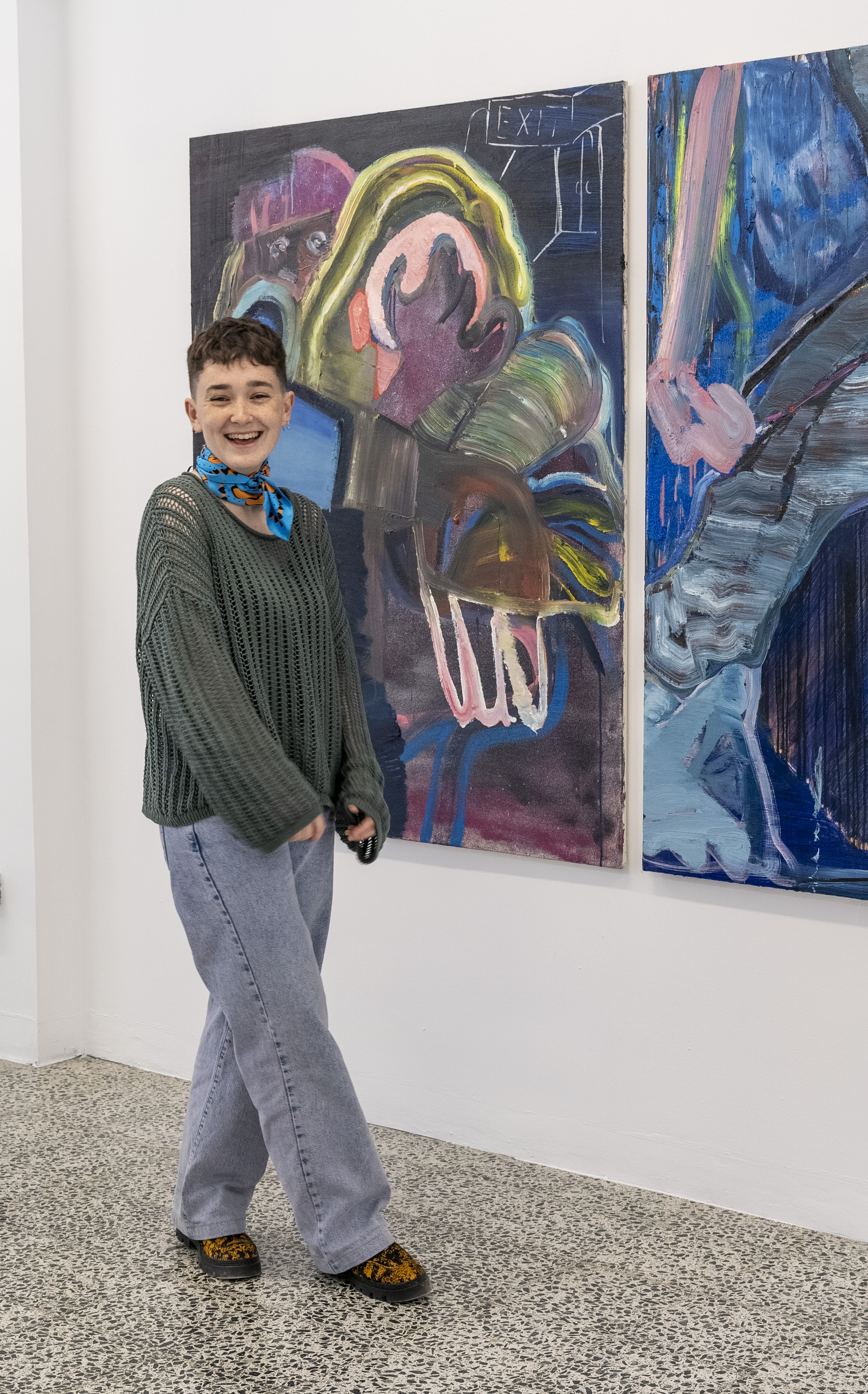 Cordoba, 1997
Lives and works in Cordoba

We have closely followed Irene Anguita's work in the two years since her inclusion in the first edition of el Chico's Adentro/Afuera in 2021. That group show was followed by her first solo exhibition, and we have continued to be mesmerized by the evolution of her pictorial practice.

Facing her painting continues to raise a sense of mystery, but now with a greater intensity, derived from a more mature practice. For those who know her work in-depth, this evolution will appear more evident, and those meeting her for the first time will see that the work comes from an extended process. While her interests remain the same, the question is how to drive her practice into unfamiliar places. Irene's pace is relentless, even so, her exacting standards do not allow her to accept all that she produces. An artist's language is composed of conceptual factors – even metaphysical – as well as tangible elements, which create a technique bound to the matter; we dare to say that it is in this materiality where Irene finds fertile ground to continue confronting her own work from the most honest place possible.